In this article, we explained what is monolithic construction, the Need for Monolithic Construction, Advantages and Disadvantages of monolithic construction, Monolithic construction in India, and so more.
So please read the article till the end. If you find any value in this article please share it with your friends and support us.
What is Monolithic Construction?
The Monolithic construction technology is a type of construction technology which allows constructing houses and tall structure rapidly. It increases the speed of construction by using a special type of formwork like tunnel formwork.
Monolithic Construction is a type of construction in which walls and slabs are cast together. This means the Concrete Pouring in Slabs and walls are done simultaneously.

Definition of Monolithic Construction
This is a very fast construction technique for flats, houses. The cycle time of this construction technique is very less which helps to reduce project cost.
Also, it is a type of modular construction in which a large number of modular units are constructed with the help of a tunnel formwork system.
It looks like box type construction that has good strength against horizontal forces (Earthquake, Cyclone, Etc.)
The housing which was constructed by monolithic construction technology has a great disaster resistant.
Need of Monolithic Construction:
The population of a country like India increased rapidly day by day which causes the shortage of housing in the country. In India, lots of peoples are living their life on slums, pavements, huts, illegal property, temporary shelters.
As per the survey which estimates that 25 million houses required in 2012. Also, the growth of the housing industry increased day by day which shows the demand for houses in the future that means the number of houses in the future increased very quickly.
To fill the gap between demand and supply of housing, it is necessary to adopt a new innovative technology that increased the speed of construction by maintaining the proper quality and durability of construction.

Need of Monolithic Construction
The total cost of building construction includes cost of materials, cost of labor, and cost of formwork & other techniques that are 55% to 60%, 25 to 30%, and 10 to 20% of total cost respectively.
Therefore, economic construction can be achieved by using efficient and cost-effective material, or by an improved design, or by using innovative technology.
This problem leads to Monolithic construction technology which is construct housing rapidly with good quality and durability.
Monolithic Construction in India:
Rajkot Light House Project:
In India, lots of structure was constructed by the help of monolithic concrete technology.
But recently it was adopted in Rajkot lighthouse project that is approved by the ministry of housing and urban affairs and this project constructed by the Malani Construction Company.
The 1144 houses were constructed with the help of monolithic concrete technology using a tunnel formwork system within 12 months.
Features of Rajkot Light House project:
Facilitation rapid construction of mass modular units.
Making Structure durable with low maintenance.
The precise finished can be ensured with no plastering requirement.
The concrete can e designed to use industrial by-products such as Flyash, Ground granulated blast furnace slag, micro silica, etc. resulting in improved workability & durability, while also conserving natural resources.
Recently this project was in construction phase.
For more details about Rajkot light house project you can visit: Click Here
Sathagally housing project
Monolithic concrete technology is also used in Sathagally housing project, Mysore, India.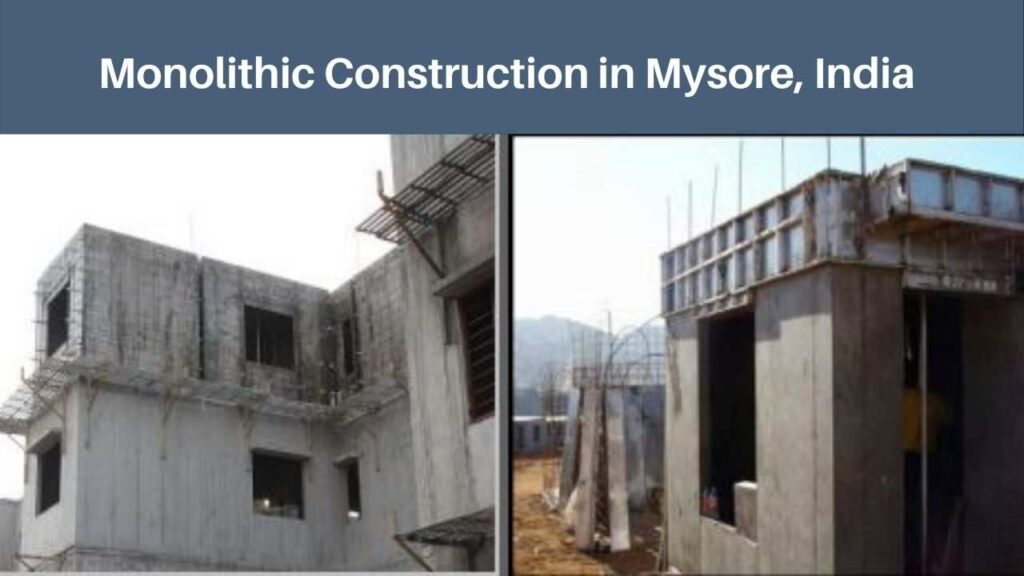 The 448 Houses were constructed in 5 Acre land with the help of this technology at Sathagally Behind VTU Regional office Mysore.
There 14 (G+3 Storey) blocks were constructed. Each block includes 34 houses And the cost of this project is around 1350 lakh.
This project was constructed by M/s P G SETTY Constructions Pvt Ltd, Mysore.
For more details of this project you can Visit: Click Here
In India, lots of construction projects are completed with the help of monolithic concrete technology. These are a few examples of Monolithic construction in India.
I hope you find some interesting here.
Now, the Advantageous and Disadvantages of Monolithic Construction.
Advantages of Monolithic Construction:
Allow speedy Construction.
It helps to fill the gap between the demand and supply of housing quickly. Provide a speedier solution to the housing shortage.
This technology helps to optimize the cost & time of project.
The structure was constructed by optimal use of time, money, and building material.
It provides a disaster-resistant structure.
The Monolithic buildings are more strong against horizontal forces ( Earthquake, cyclone, etc.) as compared to conventional Buildings.
It's not required any expensive construction equipment in case of building constructed with aluminum formwork.
In this technology, No need for any type of bricks, blocks, and plastering work.
Monolithic Structures are Box type structure that is more desirable as per the Earthquake point of view.
We get an Excellent Finished structure that avoids expansive plastering costs.
The thickness of walls is less due to that we get more plinth area and carpet area.
The durability and quality of Monolithic construction are very high as compared to normal construction.
The monolithic construction was Fast and lightweight.
Disadvantages of Monolithic Construction:
Require Skilled & Semi-skilled laborers.
Required a few days of training for workers.
Repair and maintenance of monolithic construction are difficult.
The thermal radiation is more.
High Initial Investment
Required Special type of Formwork like Tunnel Formwork.