Hello everyone, in this article, I am going to explain what is tunnel formwork system? Why we use the tunnel formwork system? What are the advantages of the tunnel formwork system? When tunnel formwork is suitable? Construction procedure of tunnel formwork system, and limitations of tunnel formwork system, etc.
So read the article till the end, and if it was useful so share it with your friends because sharing is caring.
What is tunnel Formwork system?
A tunnel formwork system is a type of formwork system in which an RCC Slab and Wall are cast in a continuous pour of concrete.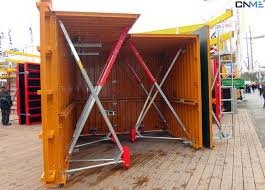 The tunnel formwork system consists of 2 half cells (L-shaped) made of steel that are joined together to form a room or cell unit. These several rooms are made a building.
In tunnel form system wall and slab are casted in a single process within a single day.
The formwork system consists of 20 to 30% of total cost of project. So it is necessary to choose a perfect formwork system for various types of construction projects. Because it affects the total cost of a project.
Time is also a major factor that affects the total cost of the project. And the formwork took 60% time of concrete construction. That's why choosing the perfect formwork system is necessary for any type of project.
Tunnel formwork is best for repetitive room design construction as well as high rise building construction like the apartment, hostels, hospitals, etc.
The cycle time of the tunnel formwork system lies between 1 to 3 days that is very less compare to other formwork systems. So tunnel formwork took a lead in time-saving of projects which indirectly affect the total project cost.
Also using tunnel form we not need any type of plastering work.
Slab Cycle time:
Slab cycle time is the amount of time that is required between the casting of slabs. Generally, it is referred to as a cycle time of formwork.
Slab cycle time involves the following activities.
Wall shuttering
Slab shuttering
Slab level
Leveling
Line and plumb
Wall reinforcement
Slab reinforcement
Electrical fitting
Casting of slab
De shuttering wall
De shuttering slab
Tunnel Formwork System ppt

Advantages of Tunnel formwork system:
Economical
Fast and Reliable
Safe
High quality
1. Economical:
It is economical for large construction of multiple similar modular units, like apartments, hostels, hospitals, etc.
2. Fast and Reliable:
Tunnel formwork required less slab cycle time due to that construction becomes fast and reliable.
3. Safe:
Construction of box type structure is safe against horizontal forces like earthquake and cyclone forces.
4. High Quality:
Tunnel formwork gives high quality of finishing due to that we not need of any type of plastering work.
When tunnel formwork is suitable?
Tunnel formwork is suitable for repetitive cellular construction such as residential blocks, hotels, student accommodation, barracks, and prisons.
It is suitable for Rapid construction.
It is suitable when we need a Column less structure.
It is suitable when we need High-quality construction.
It is suitable for High rise building construction.
Construction procedure of Tunnel Formwork System:
The sequences of construction of tunnel formwork system are as follows.
Stripping of the formwork from the previous day.
Positioning of the formwork for a current day phase with the installation of mechanical, electrical and, plumbing services.
Installation of reinforcement in the wall and slabs.
Last is concreting.
Tunnel Formwork Vs Aluminium (mivan) Formwork:
| Activity | Tunnel Formwork | Aluminium Formwork |
| --- | --- | --- |
| Capital Cost | High | High |
| Speed of Work | Fast | Moderate to Fast |
| Cycle Time for RCC work | 1 to 3 days | 10 to 15 days |
| NOS of repetition of shuttering material | More than 500 | 100 to 500 |
| Quality of Construction | Good quality | Good quality with proper care |
| Plastering Required | No need of plastering work required | Plastering Not required if good precaution taken |
| Cost of Shutting | 9000 to 10000/sft area | 4000 to 5000/sft area |
| Labour Cost | Around 150 to 250 | Around 250 to 350 |
| Durability | High | High |
| Casting System | RCC Monolith | RCC framed |
| Curing | Thermal Curing | Compound curing |
Limitations of Tunnel Formwork System:
Tunnel Formwork is not suitable for small projects
A high initial investment of formwork and other types of machinery is required in a tunnel form system.
Need to design a building suitable for this system.
Due to speedy construction, high cash flow management required.
A skilled labor force is needed compared to traditional systems.
Tunnel Form Service Providers In India
Recently in india, the tunnel formwork system was not widely in use. Due to this reasons a very few contractors or formwork service providers are available in India. This all Tunnel Form service Providers name and Official website listed here.
1. Outinord Formwork Pvt. Ltd.
Outinord Formwork Pvt. Ltd. is a very famous multinational formwork service providing company. Recently the tunnel forms are used in india for lighthouse project that is monolithic construction of residential building in Rajkot, Gujarat.
For this Light House Project the need of tunnel forms was filled by Outinord Formwork Pvt Ltd.
The Official Website of Outinord Formwork Pvt Ltd. is https://outinord.net/
Conclusion:
It can be concluded that, though initial investment and per day operational cost in tunnel formwork is more, due to more reuses and reduced slab cycle time tunnel formwork works out ultimately economical.