In this article, we explain the various types of floorings that are used in construction of building. Also here mentioned the different flooring material and its selection procedure.
So, keep reading the article till the end, and you get any valuable information than please share we your friends. Also, if you don't like the article than please comment. We reply all of your comment and try to improve ourself as soon as possible.
Let's start with Flooring?
What is Flooring
Flooring or floor finish or floor covering is a layer of different material, provided at various floor to increase the durability, appearance and pleasant environment into the room or building.
There are lots of materials are used for floor finish purposes. Here, we listed few of them that are conventional flooring materials.
Mud or Muram
Bricks
Concrete
Stones
Wood or Timber
Terrazzo
Tiles
Mosaic
Marble
Linoelum
Rubber
Cork
Asphalt
Glass
Plastic
P.V.C
So, these are the different types of flooring materials. Let's understand the factors affecting on selection of flooring material. How to select a perfect flooring material?
Also Read: What is Floor | Types of Floor in Building
Factors Affecting selection of flooring material
The selection of flooring should be made considering the following factors:
Initial cost
Appearance
Cleanliness
Durability
Damp Proofing
Sound Insulation
Thermal Insulation
Smoothness
Hardness
Fire Resistance
Maintenance
1. Initial Cost
The initial cost of flooring should not be very costly. Because, the overall flooring cost includes the Material cost, grout cost, application cost, labor cost, etc.
The flooring with material such as marble, wood, tiles, special clay tiles, granite, etc. are very expansive. But such Flooring materials increase appearance of your building as well as durability and other factors are also better than other flooring material.
Where, the flooring material such as terrazzo, linoleum, cork, asphalt, bricks, stones, and concrete, etc. vary from moderate expansive to cheapest. But in terms of aesthetic view, durability, cleanliness, maintenance, etc. these materials are not too good.
So, always consider the cost of flooring or selection of flooring keeping in view of durability, maintenance, appearance, cleanliness, insulation, smoothness, etc. factors.
Also Read: Types of Access Doors Panels
2. Appearance
A flooring material should produce a desired and pleasant color effect and architectural beauty into your building or home.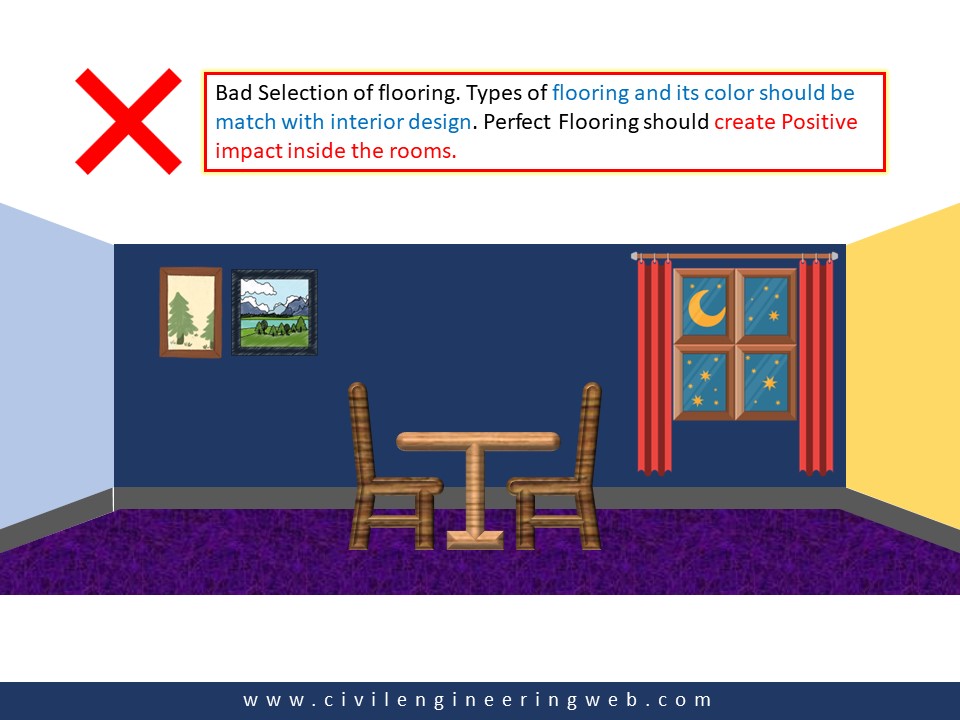 Generally, flooring with terrazzo, tiles, marbles, granite, stone, etc. materials provide a good appearance whereas the asphalt covering gives ugly appearance.
So, consider the flooring material with good aesthetic view in high valuable and living work space such as home, office, etc. whereas consider the flooring material with bad appearance in low valuable work space such as garage, workshop, basement, parking, etc.
3. Cleanliness
The flooring material should be easily and effectively cleaned. Also, it has less requirement of cleaning and should be dirt free. Flooring of terrazzo, marble, tiles, etc. are easily cleaned.
Also Read: Types of Partition Wall
4. Durability
Durability is one of the most important factors for selection of flooring material. The flooring material should offer good resistance to wear and tear, temperature, chemical action, etc.
Flooring material such as marble, tiles, terrazzo, concrete, etc. have a good durability.
5. Damp proofing
The damp proofing factor for flooring material selection is specially keep in mind in case of ground floor. The flooring material should offer a good resistance against dampness in building to ensure healthy environment.
Generally, the tiles, marbles, terrazzo, concrete, etc. materials are best suitable for damp situations.
6. Sound Insulation
The flooring material should not produce noise when travelled over, specially for buildings such as libraries, hospital, colleges, theatres, etc.
Also Read: Precast Concrete Vs Site cast Concrete
7. Thermal insulation
The flooring material should be able to maintain good temperature variation inside the building. Its provide sufficient cooling and heating effect in different situation such as in summer or winter season.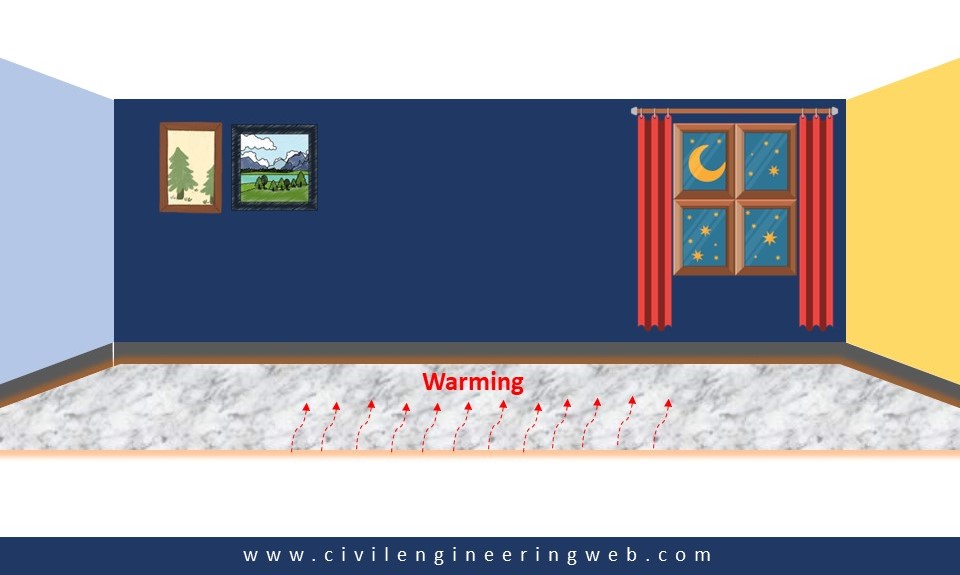 Marbles and other stone types flooring material have a good thermal insulation property.
8. Smoothness
The floor covering should provide smooth and even surface.
9. Hardness
The flooring materials should be hard enough to resist wear and tear as well as not give any form of indentation, marks, imprints, etc.
Generally, concrete, marbles, tiles, stones, etc. provides hard wearing surface.
Also Read: Types of Building Materials Used in Construction
10 Fire resistance
The flooring material should offer sufficient resistance to fire. Wood and P.V.C flooring are very easy to burn. So, such types of flooring avoided in area where have chances of fire.
11. Maintenance
Last but not least, Maintenance factor is also very important for selection of flooring material. The maintenance cost should be as low as possible. A Good quality flooring material offer very less maintenance during its life.
Types of Flooring
The various types of flooring are mentioned below.
Mud Flooring
Mud flooring is one of the most common type of floor covering in village. It is very cheap as compare to other flooring. The hardness of mud flooring is good whereas it is fairly impervious. The construction and maintenance of mud flooring is very easy.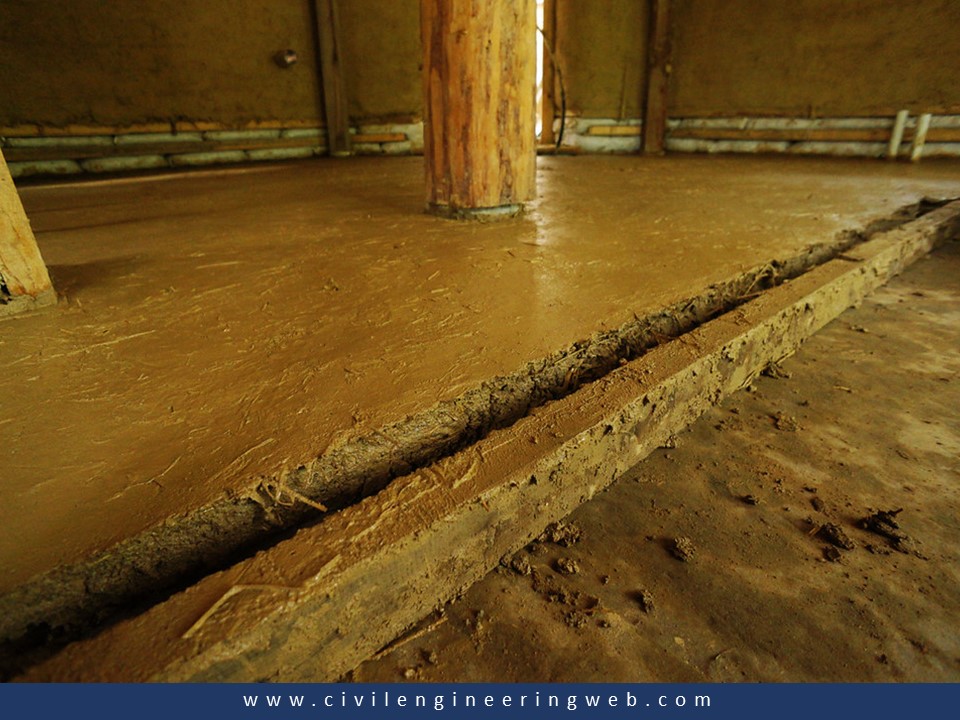 Nowadays, the uses of mud flooring is almost null. Even in villages, peoples are adopting tiles, stones, and other types of flooring.
The thermal insulation means control of heat and cold in winter and summer seasons is more effective as compare to other flooring.
Also Read: Types of Shoring in Construction
Brick Flooring
Brick flooring is commonly used in warehouses, godown, stores or places which is subjected to heavy objects.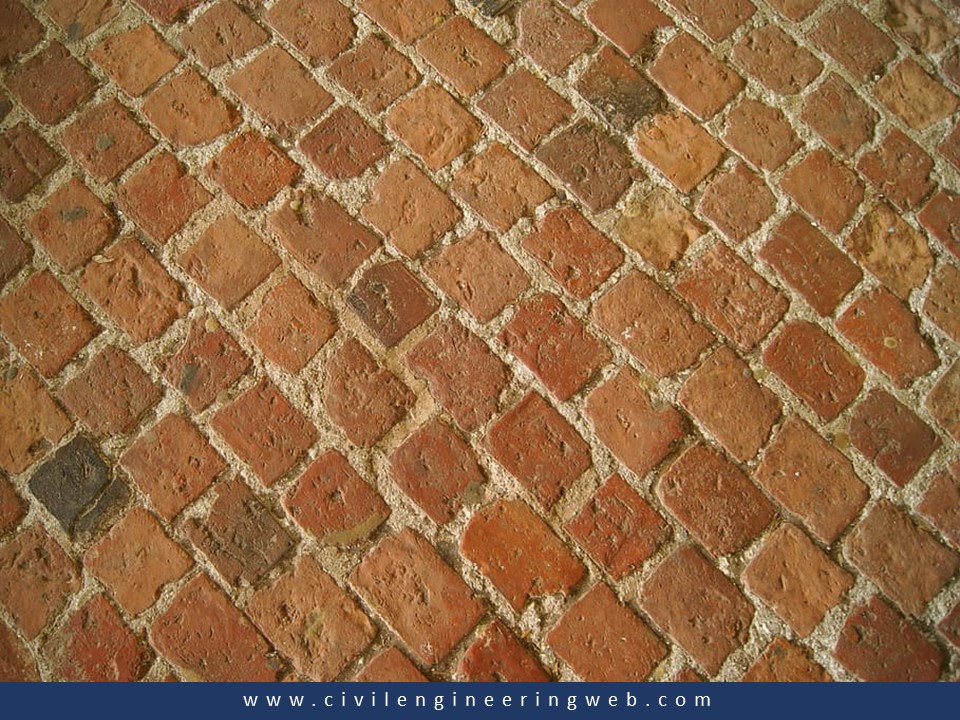 Brick flooring is laid above the well compacted earth filling and 10 to 15cm thick cement or lime concrete layer. A 12mm cement plaster may be provided at top for finishing.
Brick flooring have a good hardness and non-slippery property. It is cheaper and easily repairable flooring.
Concrete Flooring
Concrete flooring is one of the most commonly used flooring as compared to other. It is mostly used in residential, commercial and public buildings.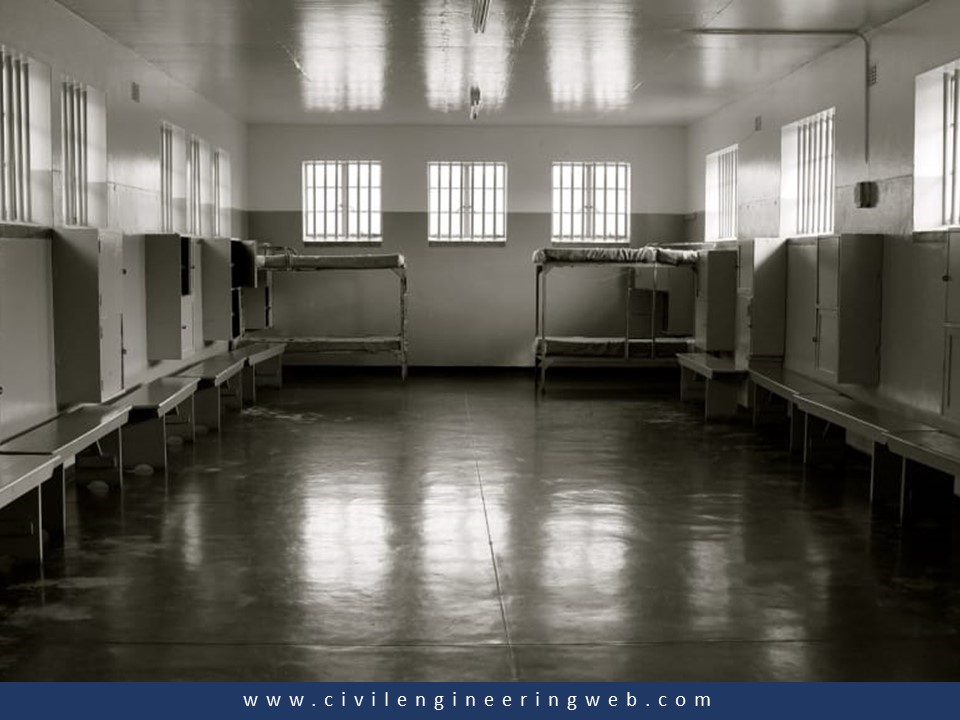 Concrete flooring has enough strength and hardness to resist the wear and tear. It can be easily clean as compared to other.
Concrete flooring provides smooth finishes that's provide the pleasing appearance in the building. It is non-absorbent and thus it is useful for water stores.
Also, concrete flooring has good durability, damp proofing, thermal insulation and fire resistance property. At the end, it is compact flooring which fulfill the most of requirement of users which makes it more economical as compare to other.
The only difficulties related to concrete flooring are workmanship attention while laying and maintenance.
Also Read: Types of Formwork in construction
Flag-stone Flooring
This flooring consists of thin slabs of lime stones laid on concrete bedding. The usual sizes of stone slabs are 30 cm x 30 cm, 45 cm x 45 cm and 60 cm x 60 cm. Their thickness varies from 2 to 4 cm.
The construction and repair work of this type of flooring is easy. It is hard, durable and resistance to wear and tear. It is economical where stones are easily available.
This type of flooring not provide pleasing appearance into building. Mostly, such type of flooring used in basement, parking and other places which not in too much use.
Terrazzo Flooring
Terrazzo flooring is also one of the most popular type of flooring. It is very similar to concrete flooring, just a marble chips or fragments are used in this flooring for better appearance.
In this flooring, marbles chips of different color shades are poured into the concrete to obtain terrazzo flooring. It is poured in place or precast.
Terrazzo flooring has the all benefits that cover in concrete flooring. Due to use of Marbel chips, it gives a good appearance into the building.
Nowadays, it is not popular as compare to marble or tiles flooring. But it is also in use of residential building, offices, schools, hospitals, banks, etc.
The cost of Terrazzo flooring is more as compare to mosaic, concrete, stone or brick flooring.
Also Read: 14 different Types of Concrete
Mosaic Flooring
Mosaic flooring is special type of flooring in which small pieces of broken tiles (China glazed tiles) are arranged in definite patterns to provide cool and pleasing appearance into the building.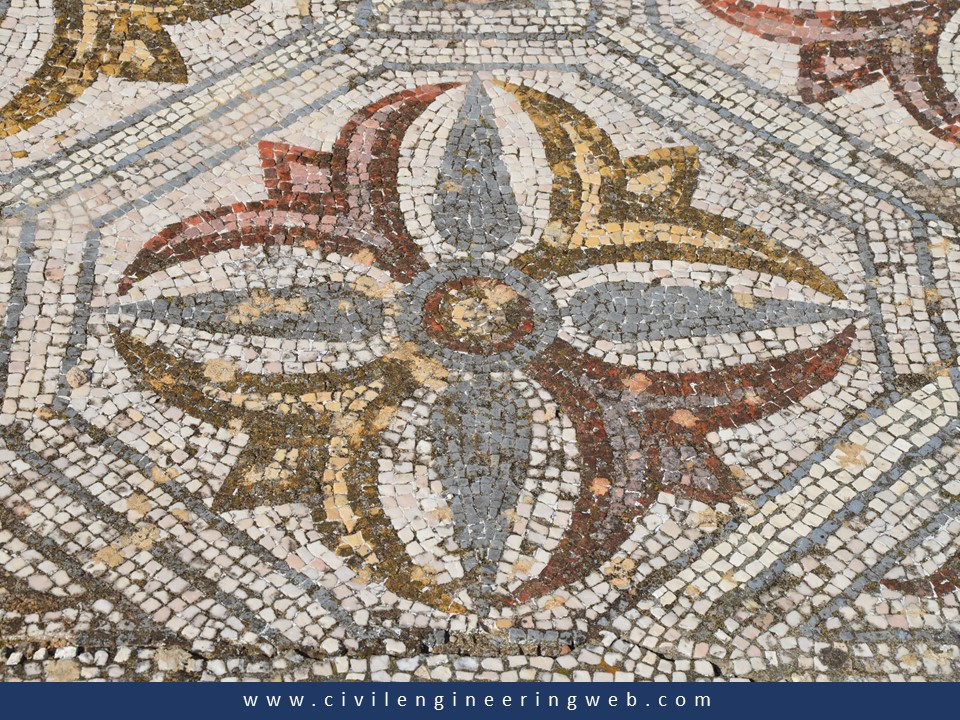 It is commonly used in residential buildings, temples, toilet and bathroom, operation theatres, public buildings, bus station and other buildings.
Mosaic tiles has good durability, fire resistance and resistance against the wear and tear but due to grout joints it can dirty quickly. The cost of mosaic flooring is costly as compare to concrete or brick flooring.
Marble Flooring
Nowadays, Marble and tiles floorings are in trends due to its better appearance, cleanliness, thermal insulation, low maintenance, etc.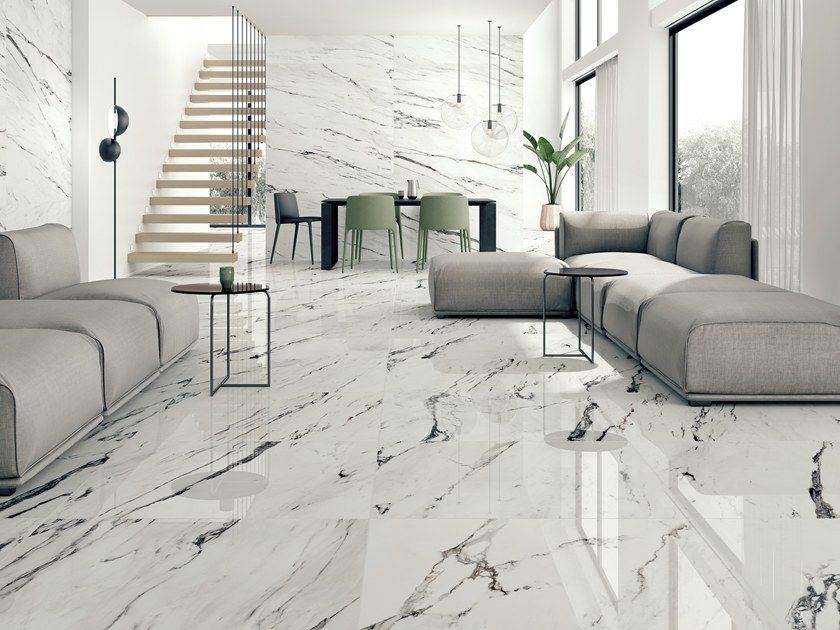 Marble flooring is commonly provided in temple, mosques, churches, gurdwaras, residential building, public places, hotels, etc.
Its available in various colors, but lights color marble flooring is mostly adopted by users. The cost of marble flooring is comparatively high due to better appearance and limited availability.
Marble flooring required high attention during laying work because it suddenly breaks if fall down due to its brittleness.
However, White color marbles may turn in yellowish color over the years because marbles are not stain resistant.
Also Read: 14 Different Types of Mortar
Hardwood Flooring
Hardwood flooring is one of the premium flooring type because its adds very classic and premium appearance into your building.
Hardwood flooring consist the piece of solid woods or planks, obtained from maple, oak, walnut or cherry trees.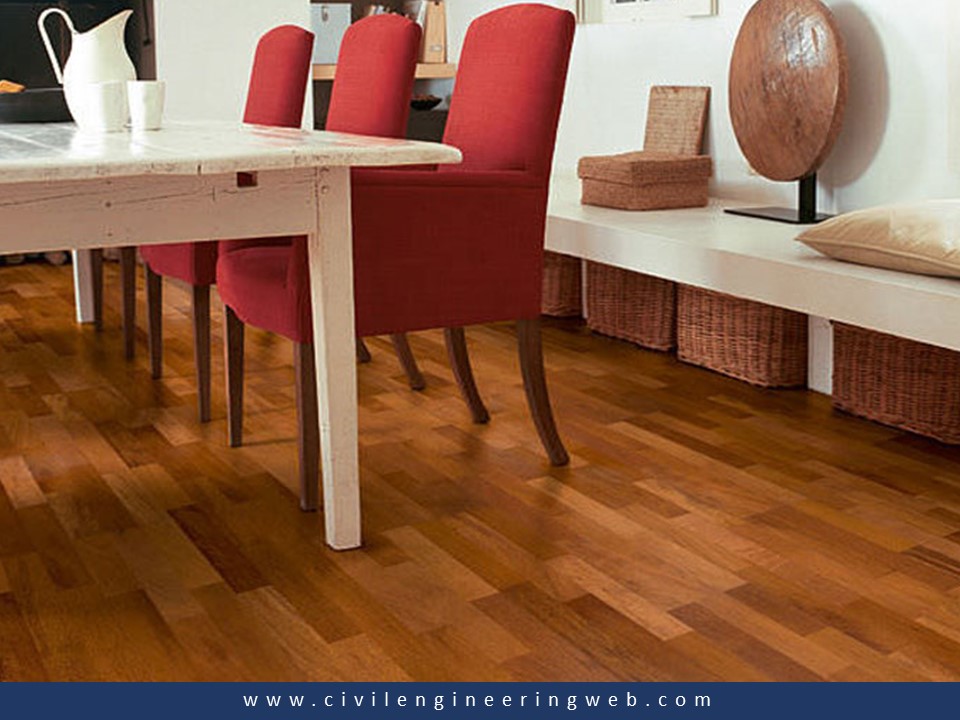 The hardwood flooring requires high maintenance but strong and durable option. Also, woods easily decay due to weather effect, insects, termite, etc. that's why its needed special prevention measures for long durability.
The sound and thermal insulation property of hardwood flooring is much better than other types of flooring but it can be easily catch fire.
Hardwood flooring is very expansive as compare to other types of flooring and not suitable for bathroom, toilets, or the place which is in contact of water or other chemicals.
Engineered Wood Flooring
Engineered wood flooring is the best alternative of hardwood flooring. It consists of thin sheets hardwood bonded with high quality plywood substrate. The use of plywood make it more affordable as compare to hardwood flooring.
The durability of engineered wood flooring is almost similar to hardwood flooring whereas special precautions against termite, insects, weather effects, etc. is also needed.
Its available in multiple variety with multiple installation methods. The installation cost of this flooring is also less comparatively other.
The cost effectiveness and hollow sound makes it different as compared to hardwood flooring.
Also Read: 12 Different types of Stone Masonry
Linoleum Flooring
Linoleum flooring is eco-friendly option among all these types of flooring. Linoleum made from raw material like linseed oil, cork, dust, wood flour, gums and coloring pigments.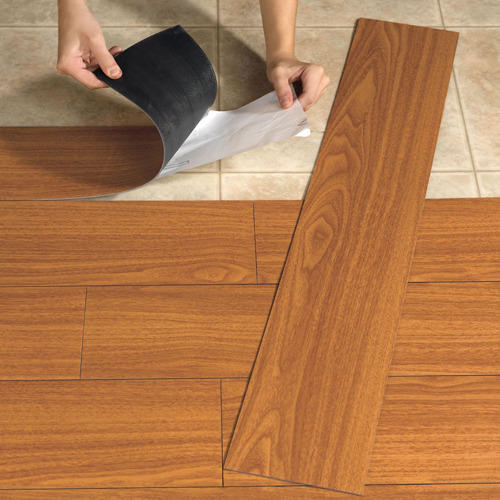 This flooring is cost effective. It is used in residential building, shop, offices, etc. places. Due to its high versality in term of design, it is very popular in Indian homes.
Linoleum flooring is easily cleaned, dust proof, noise effective and economical. It give decorative floor finish in your building.
Tile Flooring
Tile flooring is most popular type of flooring in nowadays. Mostly, two types of tile floorings are in use that is vitrified tile flooring and ceramic tile flooring.
Tile flooring provide better appearance and pleasing environment inside the building. It is suitable for both interior and exterior of building.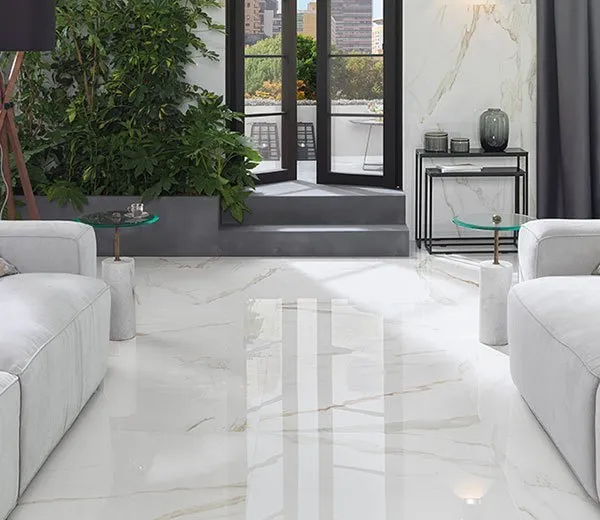 Tile flooring available in lots of variety and color which can easily blend with your interior design theme.
Tile floorings are used in residential buildings, offices, public and administrative building, banks, school, colleges, hospitals and other important places. Also, Due to its anti-sanitary property, it can be used in toilets, bathroom, laboratory, etc. places.
Tiles flooring require less maintenance as compared to other type of flooring. It has high resistance against weather effects, wear and tear, dampness, fire, etc.
It can be easily cleaned and washable whereas the durability of such flooring is much more compared to others.
The cost of tile flooring is depending on its type and quality whereas the installation process of tile is difficult to other types of flooring.
Also Read: 5 Best Method To Repair Brick Wall Defects
Join Our Telegram Channel As soon as possible to get such type of information, and have a chance to become first 100 subscriber of our channel.