In this article, we share the best home cleaning robots that's make your cleaning work too easy. And, these all-cleaning robots are very powerful consisting lots of helpful features.
So, let's start the article, before going to start my one request to you that is if you get any useful information from this article than please share with your friends.
First, lets discuss the points that should be kept in mind before buying the home cleaning robots. All points are listed and described below.
Points should be kept in mind before buying home cleaning robots
Here are the essentials features of home cleaning robots which is necessary to kept in mind before buying.
Cleaning Robots should be able to clean all type of surfaces.
Cleaning robots should have high suction capabilities and enough dust bin capacity.
Cleaning robots have features to scan and navigate all area of your room without any disturbance.
Cleaning Robots should have great battery capacity. At least 30 to 50 min battery capacity.
Cleaning Robots should have automatic cleaning and smart features such as voice assisting, scheduling, laser navigation, app control, etc.
It takes minimum time to recharge and have feature of automatic recharge and resume.
It has automatic dust bin cleaning capabilities.
It should be produced minimum sound during cleaning.
It should be easily maintained.
It should be economical. It includes most of the above-mentioned points at affordable price.
So, these are the points should be kept in mind before purchasing cleaning robots for your home.
Let's discuss about India's top rated and high valuable robotics floor cleaner.
Best Home Cleaning Robots in India
Here is the list of 5 Best robotic floor cleaner of India that is most popular, having powerful suction and includes most of the features as mentioned above.
1. ECOVACS DEEBOT N8 2-in-1 Robotic Vacuum Cleaner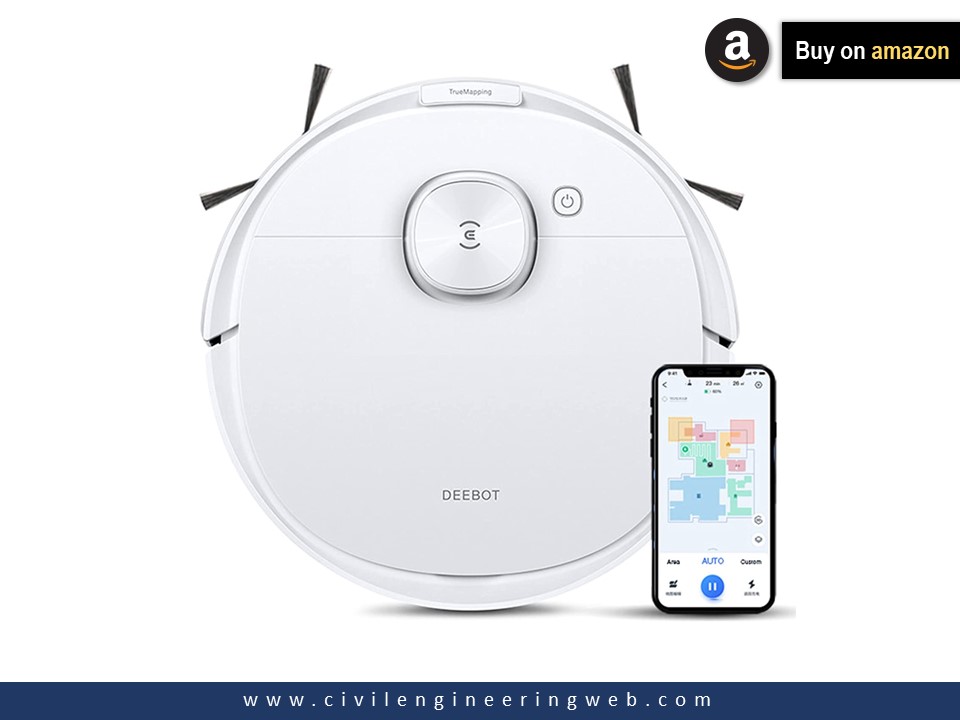 ECOVACS DEEBOT is one of the most popular brand for floor cleaner and this robotic vacuum cleaner is awesome product from it.
Due to its great features and function with best battery in this segment and popularity, it come in first of our list of robotic floor cleaner.
It is a robotic vacuum cleaner with moping which can automatically mop your floor and save your important time. The features of this device are mentioned below.
Patented Dtof Technology
High Precise Mapping
Most Powerful Suction
Smart App Enabled
Google / Alexa Compatible
Smart Carpet Detection
Virtual Boundary
Pros
The cleaning and mapping process is very fast due to smart mapping system.
The battery capacity is enough as required to clean 2 to 3 BHK home in a single charge.
High accuracy object detection due to Dtof Technology helps to clean home very accurately.
Smart APP Connectivity provide all details of moping and cleaning.
Cleaning and moping scheduling option is a plus point for this vacuum cleaner.
Extra Accessories
Easy to maintain
Voice control
Cons
Moping is not effective as compared to manual moping.
Support System takes time to resolve the query.
2. Mi Robot Vacuum-Mop Robotic Floor Cleaner with 2 in 1 Moping and Vacuum
MI Robotic vacuum cleaner is also a good product having lots of smart features and sensors. The popularity of brand and support system is also good as compared to other robotic floor cleaning devices.
Features of cleaner are mentioned as below.
Intelligent Mapping and Route Planning
LDS Laser Navigation System
Multi Mapping
Anti Collison & Anti Drop Sensors
Smart Water Tank
Smart App Control
Automatic Room Zoning
Automatic Recharge
Voice Control
S and Y pattern cleaning
Pros
Smart Mobile app allow you to control and track cleaner from one point.
Battery capacity is pretty good and charging time is also near around 1.5 hrs. which is within acceptable limit.
Due to smart features and sensors, the quality of sweeping is really good while in case of moping, it requires still improvement.
Good Suction Power
Support System
Voice Control
Cons
Sometime it needed more accuracy in mapping.
Moping is average
3. VIOMI SE Robot Vacuum Cleaner and Mop
VIOMI SE Robot vacuum cleaner is also a good product for floor cleaning. Even it is amazon choice product on amazon website in India.
This robotic floor cleaner is also consisting smart features and navigation system. The popularity of brand is also good.
Features of this floor cleaner is mentioned as below.
Smart app control
Laser Detection System
S & Y Moping Mode
360-degree Scanning and Mapping
Multi Map Management
Multi-schedule Mode
Pros
Powerful Suction
Object detection is very accurate
Sweep cleaning is best using various modes such as standard and strong
Good Battery Capacity
Moping cleaning is good as compared to other
Cons
Take too much time to recharge (2.5 to 3hrs)
Less effective cleaning at corners of room
Mop pad get easily dirty
Weak Customer support system
4. ILIFE T10s Robotic Vacuum Cleaner
ILIFE T10s Robotic Vacuum Cleaner is also one home the best home cleaning robot in India. It has also a powerful suction, smart navigation, smart sensors, different cleaning modes and app control.
Features of this floor cleaner is mentioned as below.
Self-Empty Suction
Lidar Navigation
Automatic charging and resume
Smart app control
Voice control
NO GO Zones
Anti Collison sensors
Multi Map Management
Pros
It has powerful suction
Pretty well room mapping
Good battery life
Rapid Cleaning
Well object detection
Voice control
Cons
Need improvement in Moping
App Support and management required extra attention
If your budget is low than you can also think about ILIFE V3s Max Robotic Vacuum Cleaner that is good option in comparison of higher variant.
5. iRobot Roomba i7 Robotic Vacuum Cleaner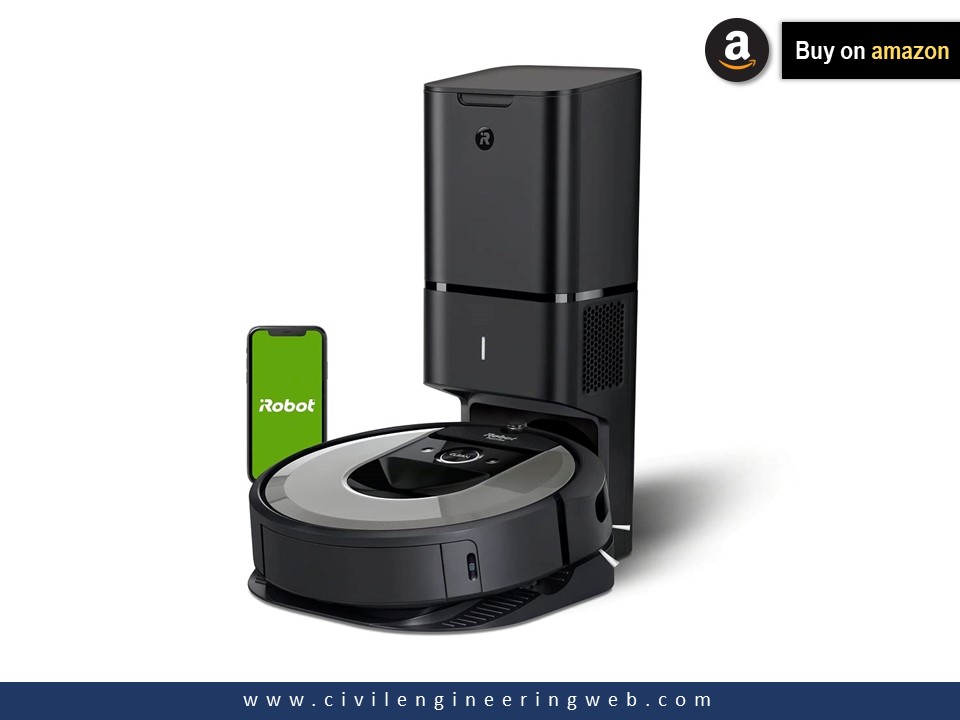 iRobot Roomba i7 Flooring cleaner is also a better option as compared to others. It has Brand popularity, smart navigation, smart app and voice control. Also, 30 years of robotics experience and innovation provide better support as compared to another robotic floor cleaner.
The features of this device are as mentioned below.
Powerful Suction
3 stage cleaning system
Voice control
Adaptive Navigation
Dirt Detect technology
Multiple map management
Map zoning
Pros
Powerful Suction
Easy to use
Smart Navigation and sensor detect object accurately
Well sweeping as compared to other
Good battery life
Cons
Expensive as compared to other product
Moping is not included
Dust bags are very expansive
Connectivity issues
So, this was the our details article on home cleaning robots that makes your home more futuristics and save your time.