In this article, We explain the different types of room and Arrangement of room for residential buildings, Proper Location of rooms in house/flat with considering Vastu, Direction, Ventilation, Roominess and base on other principal of planning. Also Discussed the minimum floor area and standard size of room in residential building.
Arrangement of Room in Residential Building
Mainly the rooms of residential house/flats are arrange as per their function and priorities. The all rooms are connected by each other with their some functional relationship. Such as Kitchen is always connected with Dining Room or Drawing Room.
Before going to understand the arrangement of room in residential building, let's know the different types of room in residential building.
Types of Rooms
Drawing Room
Kitchen
Dining Room
Bed Room
Study Room
Pooja Room
Store Room
Toilet
Bathroom
Guest Room
1. Drawing Room
Drawing room is provided to serve as s recreation room, study room, entertainment room, for guest and visitor and a congregation room on special occasions of marriage, religious functions, etc.
Drawing room should be well lighted and ventilated to provide comfortable environment to users. It is located in front or middle of building from all main rooms have access. As per the Vashtu, Drawing room should be located in North-East, East direction.
Drawing room having a verandah in front and a lobby or dining room in the rear.
Also Read: 4 Method of Calculating Depreciation – With Examples
2. Kitchen
Kitchen Room should be place at one corner of building because corner rooms have great ventilation due to proper flow of wind which helps to prevent smoke not enter into other rooms of building.
Always try to keep Kitchen room in against of prevailing winds. It is better to disconnect kitchen by providing verandah, lobby to keep other rooms smoke and disturbance free.
Kitchen Provided with shelves for storage and other purposes. Also it have Chimney for Smoke Removal, Windows for good ventilation and Washing area for utensils cleaning.
It is better to provide Kitchen near the drawing room and connected with dining room. As Per the Vastu, Kitchen should be placed in South-east direction of building.
Also Read: What is Urban Heat Island Effect
3. Dining Room
Dining Room is provided at near or side of kitchen and drawing room. In case of economy, Separate dining room is not provided, drawing room or space between kitchen and drawing room used as a dining room.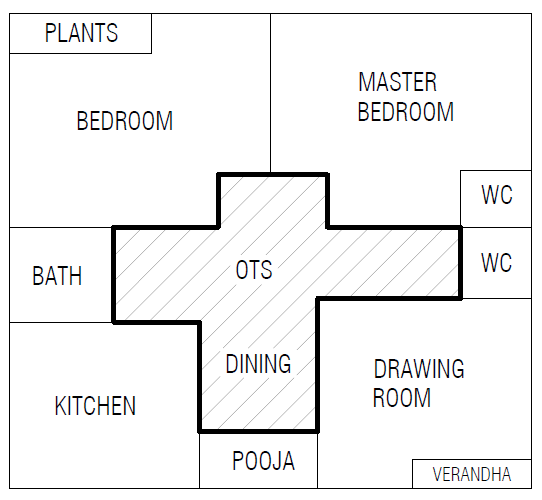 Dining room provided with cup board, tables and furniture. Also having a wash basin for hand cleaning purpose.
As per the vastu, dining room may be provided in the direction of south, west or east side.
Also Read: Benefits of Google Earth for Civil Engineering
4. Bedroom
Bedroom or Master Bed room should be located at side or corner of building with at least one wall exposed to the outer space for ventilation and lights.
It is provided with proper windows and chajjas as per sun direction for protection against sunshades and rain. A ideal bedroom receive sun rays in morning and freeze breeze in the night.
Small Verandah of Plants area provide a additional benefits to bedroom. A bedroom or master bedroom should be consist a attached bathroom and toilet to avoid the discomforts.
A person live its most of the time in his bedroom in sleeping and other time, so keeping sceneries on wall and other decorative products into the room also adds additional benefits into his life.
As per the vastu, South-west corner of building is best suitable for bedroom or master bedroom.
Also Read: Different Types of Partition Wall in building
5. Study Room
Study room should be located near to the drawing room in residential building. In most of cases Drawing hall is used as a study room.
Study room should be well ventilated and naturally lighted because a student spend most of its day time in study. So natural lighting give additional benefits in study.
The walls of study room should be painted with light colors which increases the reflection of light into the room. Also some motivation quotes should be located on walls which boost the work efficiency.
As per Vastu, Study room should be placed in east or west direction of building.
6. Pooja Room
Pooja room is a divine place in building. it should be located near to the kitchen and drawing hall in building.
The pooja room should be naturally well lighted and ventilated. A well arrangement of natural lights and ventilation increase the positivity into the room.
A large window should pe placed in pooja room for early morning sunshades.
A north, east, and north-east direction is best suitable for pooja room as per Vastushastra.
Also Read: What is Monolithic Construction Technology
7. Store Room
The main function of this room to store the Food ingredients such as dal, rice, etc. old furniture's and other items. That's why it is necessary to keep store room near to the kitchen.
Also it is provided with different level shelves for storage purpose. Store room floor should be damp proof and rat proof.
As per vastushastra, North-west or South-west corner is best suitable for store room in building.
8. Bathroom and Toilet
The Bathroom and toilet should be placed in building where you got the well natural ventilation. If natural ventilation is not possible then a well ventilation arrangement should be needed to prevent entering of harmful gases inside the room.
Mainly, it is near to bedroom and drawing room. In most of the cases bathroom and toilets are combined in one room. This should be fitted with Bathtubs, shower, wash-hand basin, W.C., Shelves, towel racks, bracket and other facilities.
The floors should be well tiled. A well tiled dado should be provided in bathroom and toilet. A North-west or West direction is best suitable for Toilet and Bathroom in building as per Vashtushastra.
Also Read: 12 Different types of stone masonry used in building construction
9. Guest Room
The guest room should be placed on the side of the front verandah and disconnected from other rooms. Guest room should have a separate bathroom and toilet.
Guest room also serve as a office room in residential building. It should be painted with ight color to create positive and pleasant environment into the room.
A Northwest direction is best suitable for guest room as per Vastu.
Standard Size of Rooms for Residential Building
The standard size of rooms for residential building is listed below.
| Types of Room | Standard Size (Meter) | Standard Size (feet) |
| --- | --- | --- |
| Drawing Room | 4.2 x 4.8 to 5.4 x 7.2 m | 14′ x 16′ to 18′ x 24′ |
| Dining Room | 4.2 x 4.8 to 4.8 x 6.0 m | 14′ x 16′ to 16′ x 20′ |
| Bed Room | 4.2 x 4.8 m | 14′ x 16′ |
| Kitchen | 3.0 x 3.0 m | 10′ x 10′ |
| Store Room | 3.0 x 3.0 m | 10′ x 10′ |
| Bathroom and Toilet | 1.8 x 2.5 m | 6′ x 8′ |
| Office Room | 3.0 x 3.6 m | 10′ x 12′ |
| Verandah | 2 to 2.5m wide | 7′ to 8′ |
Join Our Telegram Channel to get such type of information as soon as possible, and have a chance to become first 100 subscriber of our channel.