Total quality management is important for all type of organization. Here we explained what is total quality management, meaning of total quality management, definition of TQM according to ISO, Principals of total quality management, concepts of total quality management, Aims of total quality management And Ten mantra of TQM.
What is Total Quality Management (TQM)?
TQM (Total Quality Management) is an improvement in the traditional way of doing business. It is a successful technique to surpass the world-class competition.  The culture and actions of the entire organization can be changed by making changes in the way they work.
Meaning Of TQM (Total quality Management):
Total : made up of the whole
Quality = Degree of excellence a product or service provides a product or service provides
Management = Act, art, or manner of handling, controlling, directing, etc.
So that,
TQM is the art of managing the entire organization (Man, Material, Machinery, Money) to produce the best product or provide the best service.
"It is the art of managing the whole to achieve excellence."
Thus,
TQM is the philosophy and guiding principles that form the foundation of a continuously progressive organization.
The definition of Total quality Management (TQM ) according to ISO 9000:
"A management approach of an organization, centered on quality, based on the participation of all its members and aiming at long term success through customer satisfaction and benefits to the members of the organization and to the society."

Total quality Management (TQM ) according to ISO 9000
The quality-oriented management approach of the organization, in which every member of the organization is involved and whose success includes the interest of every member of the organization and the society" is called TQM.
Also read: Important Points to Check Quality of construction materials
TQM applies to all governmental and non-governmental organizations engaged in commercial or non-commercial activities.
As per BIS: 7850, Part-1: 1992,
TQM is also represented by the following names,
Total quality
Continuous quality improvement
Total business management
Cost effective quality management
Aims of Total Quality Management (TQM):
The main objectives of quality control are as follows.
1. Quality assurance:
The main purpose of quality control is to provide adequate and consistent quality construction to the construction user.
Quality assurance activities include the following.
Reliability
Durability
Maintainability
Interchange ability
Safety
Life of the structure
2. Completion of construction at the lowest possible cost in which the quality of construction is consistent and adequate.
3. Improving construction from the first time and minimizing defects
4. Determining quality standards that are acceptable to the owner and can be maintained.
5. Maintain quality by taking immediate necessary corrective measures during construction.
6. Determining errors / defects in construction and re-controlling deterioration.
7. To make changes in the construction process if an item is rejected.
Also Check: Brickwork Calculator
Concepts of Total Quality Management (TQM):
The following six Concepts are required TQM.
1. The quality council should be formed in the organization which should formulate a clear vision, set long term goals and guide the quality program. Quality goal should be included in the business plan.
TQM is not just a short program. Managers should involve all members of the organization and act as coaches.
2. Unwavering focus on customers internally and externally:
The key to the success of any TQM program is to focus on customers, first of all trying to satisfy internal customers. After listening to the complaints of the customers, the product should be modified to suit the design. Do it right the first time and every time for customer satisfaction.
3. Effective participation and utilization of the entire work force:
TQM is the responsibility of every member of the organization. Training all employees for TQM, As well as training on Statistical Process Control (SPC). Behaviour change in employees is the main goal.
People should not only come to work but also think of improving their jobs. People from lower levels should be empowered to perform processes optimally.
4. Continuous improvement in business and production process:
Business and production process should be continuously improved, Quality improvement projects such as
On time delivery
Customer satisfaction
Scrap reduction
billing error rate
Cycle time
Supplier management etc.
Technical techniques such as Statistical Process Control (SPC), benchmarking, ISO 9000, designated experiments etc. are excellent for problem solving.
5. Suppliers as Partners:
Supplier quality is very important in TQM. The relationship between the organization and the suppliers should be as a partner. With the success or failure of the product, both parties should make a profit or a loss.
6. Performance measures for various processes:
Performance measures such as, uptime, absenteeism, percent non conforming, customer satisfaction etc, should be decided in each field. To make everyone aware of these criteria.
TQM requires cultural change. This change is huge, which cannot be achieved in a short period of time. In a small organization, such a change can be achieved faster than in a large organization.
New and old Culture of Total Quality Management:
| | | |
| --- | --- | --- |
| Quality element | Previous state | TOM |
| Definition | Product – oriented | customer – oriented |
| Priorities | Second to service and cost | first among equals of service and cost |
| Decisions | Short term | long term |
| Emphasis | detection | prevention |
| Errors | Operations | system |
| Responsibility | Quality control | every one |
| Problem solving | Managers | Teams |
| Manager's role | plan, assign, control and enforce | Delegate, coach, facilitate, mentor |
Ten Mantras For TQM (Total Quality Management):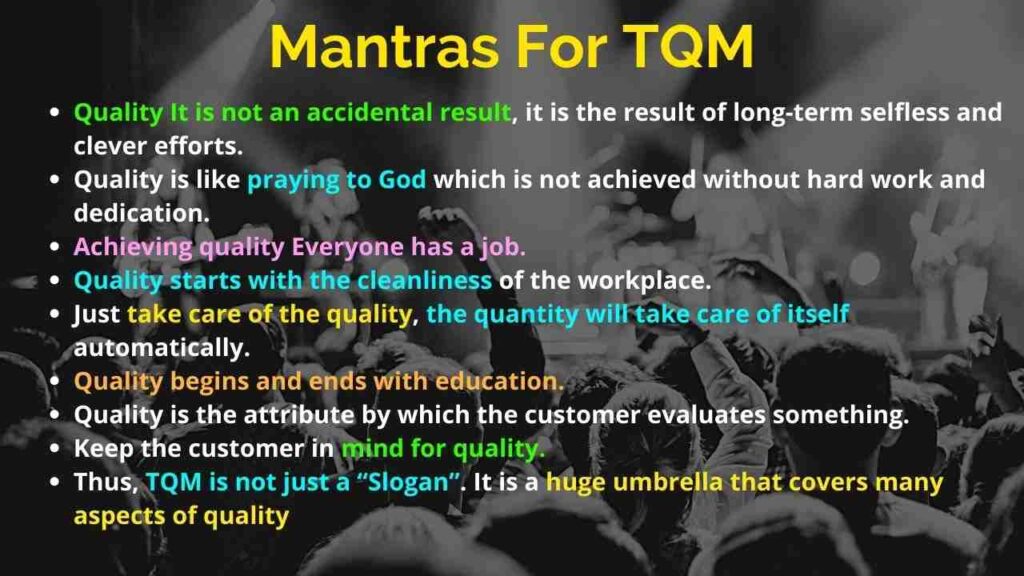 The ten mantras for Total quality management (TQM) are as follows.
Quality It is not an accidental result, it is the result of long-term selfless and clever efforts. There should be the determination to achieve good quality.
Quality is like praying to God which is not achieved without hard work and dedication.
Achieving quality Everyone has a job.
Quality starts with the cleanliness of the workplace.
Just take care of the quality, the quantity will take care of itself automatically.
Quality begins and ends with education.
Quality is the attribute by which the customer evaluates something.
Keep the customer in mind for quality.
Thus, TQM is not just a "Slogan". It is a huge umbrella that covers many aspects of quality
Total Quality Management Principles (TQM):
The following guiding principles are required for an organization to work in a coordinated and quality manner.
1. Customer orientation:
It is imperative that any organization produces keeping in mind the needs, complaints of the customer,
2. Vision:
The vision of the organization, gives it the right direction and leads to values ​​and goals.
3. Quality Strategy:
To give more importance to quality. Emphasis on preventing defects rather than finding defects.
4. Employee empowerment and participation:
To achieve the goal by covering every employee of the organization under the TQM program, giving appropriate authority at every level through participation.
5. Team Work:
The entire organization needs to work as a large team and each member is required to contribute.
6. Communication:
The exchange of information in each section of the organization, from top to bottom and from bottom to top is essential.
7. Training:
The CEOs, managers, workers of the organization should be given proper training at every level.
9. Process centered:
Organization should be process centered without being product centered or result centered.
10. Continuous Improvement:
If the goal of the organization is not stable, then there is a desire to achieve new goals with continuous improvement.
11. Measurement and audit:
The organization should be periodically evaluated by a carefully planned monitoring system.
Total Quality Management PDF Download
Also read: