Staad Pro is one of the most widely used structure analysis and design software that is mostly used for general buildings, Highrise buildings, Underground Water tank, Overhead Water Tank, Recanting Wall, Roof Truss Pre Engineered Beam Structures and other all RCC Structure and Steel Structure Analysis and design.
Staad pro Software is basically one product Bentley which serve the analysis and design of various types of structures. There are also other important products of bentley such as staad foundation, Staad building planners, RCDC, RAM, Legion and so more.
Here we are going to explore the all commands, settings, warnings and errors details in various parts to learn staad pro without any cost.
Staad Pro tutorial Part – 1 Consist the all settings details of configuration option of staad pro. Staad Pro have one of the most important advantage that is easy to use. And, I hope you also learn it quickly with very easy steps. So Let's Start.
Staad Pro Configure Settings
The all configure settings of staad pro in listed below.
After the Installing the Staad Pro Connect Version when you open it, you see the window like above image where you find the staad pro configure setting at the end of left menu.
1. General Setting
After clicking on the configure settings option, you see the new popup window like above image where General settings are opened. Set the settings as per your uses and reference. here we shows the our settings of staad pro in which we set the language English, base units are in meter and global axis Y up, And default Colors.
2. Option Setting
The above image shows the Option setting tab of configure setting of staad pro in which you can check or uncheck the various option as per your requirement. But we says to keep setting as default or as per pabove image.
3. File Format Setting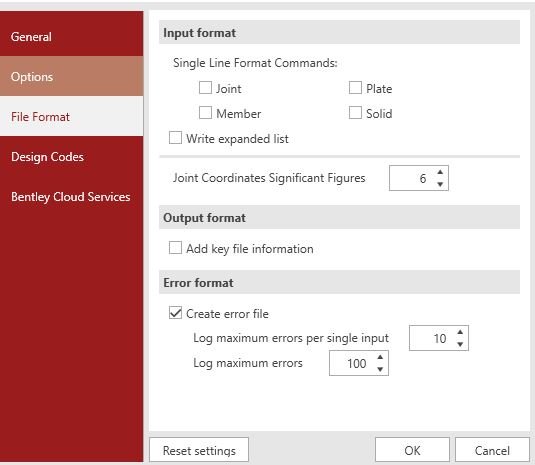 After the Option setting, the file format setting will come in which you can set the input formats, output formats, error formats and etc. Set the setting as per your requirement or above image.
4. Design Codes Setting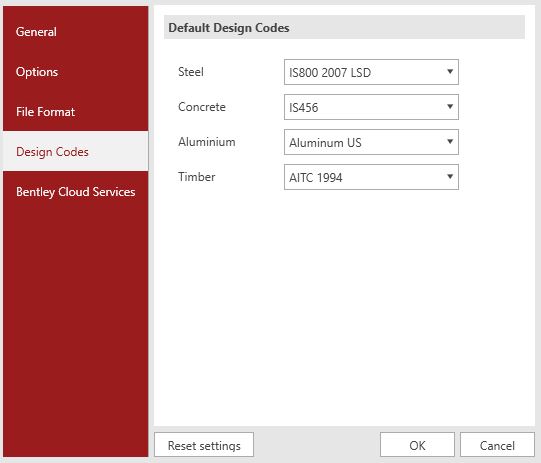 After the file format setting, Design codes setting is coming in which you can set the default standard codes as per your country. Above shown setting is for Indian requirement.
5. Bentley Cloud Services Setting
And last setting of configure option is Bentley cloud service. By this setting you can connect the staad pro to Bentley cloud service which can help you to save your staad model files on Bentley cloud servers to access it from anywhere. And also other benefits of Bentley cloud service is available for you.